"Bach Dang song doi may ngan nam
Giang san mot coi de vuong nam..."
This is the poem of a tourist who landed at this sacred place. It reminisces people of the old things. The stories of the historic Bach Dang river, of a king who was honored as the Trung Hung ancestor, had contribution in restoring the nation and bringing the Dai Viet civilization, opening up an era of expelling Tong Binh Nguyen, Ming invaders, entering a brilliant era of the Dinh, Le, Ly, Tran dynasties... still preserve this place's magnanimity - the place worshiping King Ngo Quyen
To commemorate the merits of King Ngo Quyen, generals and warriors, those who made the victory over the Nan Han troops on the Bach Dang river in 938. The temple was built at the Bach Dang Giang historical relic in 2011 in the respect of people in Trang Kenh Thuy Nguyen, Haiphong.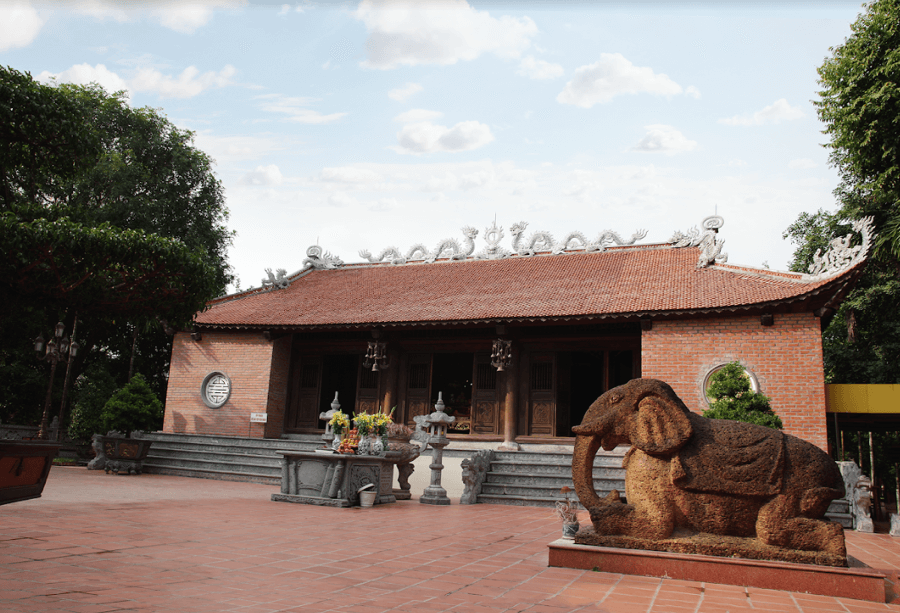 After over 5 months consolidating the mountains ans planting forests, driving stakes, building the temples... a the natural scenery surrounding the temple of king Ngo Quyen was completed in the 5,000 square- meter- campus and highlighted by the Dragon wharf in its front.
Passing the Ngu Mon made of large green stones being carved sophisticatedly, created the traditional patterns of the Van Lang Au Viet civilization, visitors enter a large yard covering 300 square meters surrounded by the stone walls. In the middle of the yard are the statues of two big elephants carved from stone taken from the Son Tay homeland of King Ngo Quyen.
The temple is built from the ironwood, including 5 frontal halls and 3 back halls.
The confining hall worships king Ngo Quyen. The statue is 2.2 meters high, weighs 1.7 tons, takes the prototype of the old statue at Luong Xam temple, which used to be the general headquarters of king Ngo Quyen. The two sides are altars of generals, in the middle is the altar of the ancestors and warriors... The place is solemn and formal.
The architecture which is typically traditional at King Ngo Quyen worshipping place is the product of skillful hands of carpenters from Hai Duong province, Ninh Binh, Thanh Hoa, Vinh Bao, Son Tay, Y Yen Nam Dinh...
Annually, at the death anniversary of King Ngo Quyen on lunar January 18th and the temple's inaugural day lunar November 1st, people hold a great festival at the temple, attracting many people and visitors.
Standing at the temple, which backs the mountain and forwards to the East Sea and Bach Dang river, Thanh Long to the right side and Bach Ho to the left side, the temple gives tourists a wide view of the whole northeastern region, on the back is Haiphong city and the Red river deltam which is the cradle of the Viet land civilization. Listening to the story of King Ngo Quyen, we feel more proud and love more the sadred values of the national solidarity spirit and the national sovereignty, which have been preserved by the forefathers for generations...
Management Board of Bach Dang Giang Relic site